Spring Rings for jewellery are one of the most important elements for a jewel and they are one of the most famous types of fasteners that can be used in a large variety of jewellery designs, for example necklaces, charms and bracelets.
Spring Rings are a staple in jewellery: they work with a stainless steel spring-loaded mechanism that works when pressure is applied to the latch. Spring Rings are economically priced and best used with lightweight jewellery chains.
 [source: https://www.halsteadbead.com/articles/types-jewellery-clasps]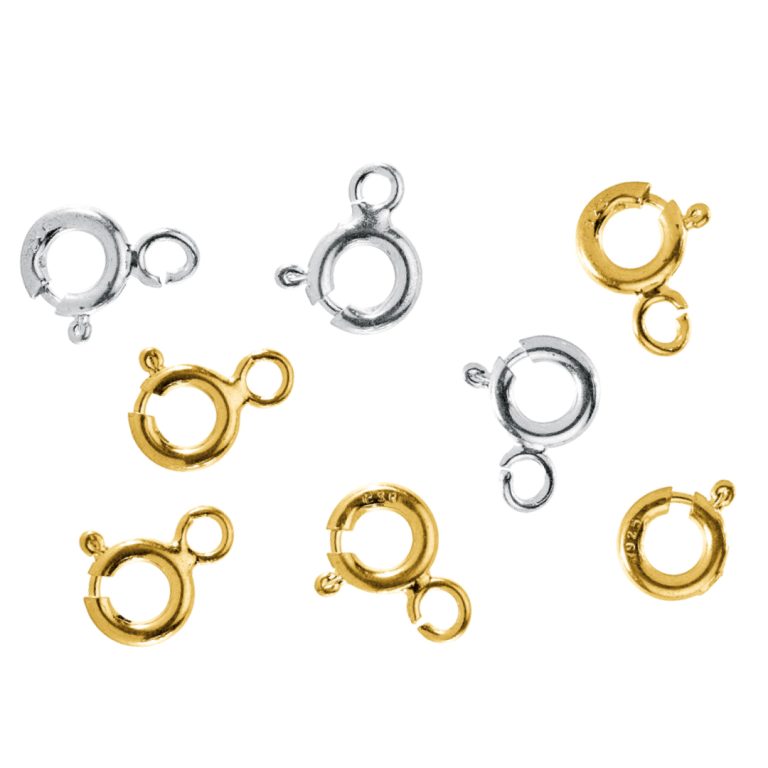 Spring Rings for jewellery: how are they made?
The production of Spring Rings for jewellery made with CIEMMEO machinery is basically split into 5 phases in which 4 different sets of machines are required. The process foresees starting with a cored tube the dimensions of which will vary according to the final sizes and weights required.
1st phase – forming of the spiral
2nd phase – cutting of the single shells
3rd phase – emptying of the shells
4th phase – end ring soldering
5th phase – latch manufacture and final Spring Ring assembly
Spring Rings for jewellery are made with specific jewellery making machines, let's discover them all!
For the production of Spring Rings for jewellery, CIEMMEO offers a line consisting of 5 different machines to produce the best high quality product to open and close a jewel. In order, there are:
| | MFS is an automatic machine making to create a continuous spiral of cored hollow tube.it creates a uniform continuous spiral which is wound onto an spool |
| --- | --- |
| | FAM is an automatic machine with a double cutting action, separates single housings from the spiral while cutting out the opening of the Spring Ring to accommodate the trigger. |
| | MSSA is a sophisticated machine automatically making the end ring and soldering it to the Spring Ring housing either via gas flame or laser. |
| | |
| | MMA is a highly sophisticated machine that carries out to the final assembly by loading the spring, producing and inserting the trigger, and finishing the process by quality testing the completed Spring Ring |
LSM is an optional machine for applying the quality stamp on the shell.
More about our Spring Ring Making Machines
[https://www.ciemmeo.com/mfs-fam-mssa-mma-spring-ring-making-machine/]
In conclusion, the choice for the best jewellery making machine is so important, and producing Lobster Clasps or Spring Rings for jewellery with CIEMMEO machinery is the best way to create a high quality jewel.
Why don't you discover the best jewellery making machine of CIEMMEO for your business? Click here
and discover all the machines that we offer or contact us for a quote https://www.ciemmeo.com/contacts/